Office plants are now a sustainable trend considering the global efforts done to counter climate change. Green buildings have been widely adapted in Australia and will be a booming trend in 2021.
The Green Building Council of Australia (GBCA) was a pioneer of this design trend in 2002; GBCA initiated green building practices through market-based solutions. They implemented the Green Star system to rate the environmental performance of a building which plays a significant role in corporate social responsibility for businesses in Australia.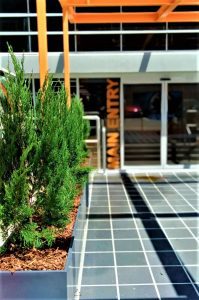 Green buildings with office plants also promote health and wellness, which can make staff members more focused and less stressed. They also become motivated, and motivated staff members become productive. As a result, their productivity also increases. We know that even a small increase in productivity can create a big impact on the business' performance.
Green buildings in Australia
Office space developers now capitalise on the ongoing trends of health and wellness by creating green buildings. Mirvac and Frasers Property, one of the biggest names in the real estate industry in Australia, designed spaces that encouraged a healthy lifestyle and behaviour among its employees. They believe that healthy buildings make healthy people who are productive.
The 25 King in Brisbane, Queensland also has a fascinating green building design which is considered as the tallest engineered timber office building. It is made of timber from roof to floor, which makes it very tempting to touch the walls when walking around. The green-covered wall full of flora is also found in the entrance lobby making a warm first impression to its guests. Indoor plants are also beautifully landscaped in different areas in the building.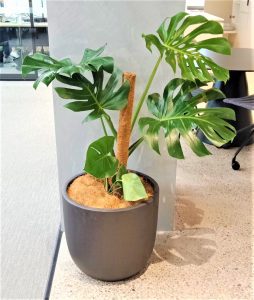 How to arrange indoor plants in the workplace?
Office plants are the best ornaments in any office space. They never go out of style, and styling them is easy. Here are five ways on how you can landscape indoor plants in your office.
Hang them up. Styling plants is not always about the ground. They can be placed at different heights. Hanging plants in the workplace can create a dreamy look, which can create inspiration to work. Even just placing those up a high place and letting the trailing plants hang down can do wonders.
Create a centrepiece. This is a good way of mixing your green foliage, and it creates an accent that easily catches attention. A centrepiece is best placed in the receiving area. You can also try adding small pots of green on the flower arrangements for office receptions to create contrast and texture.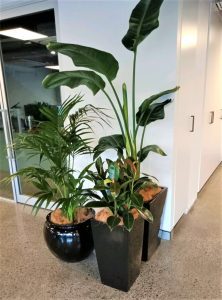 Cluster those greens. This is different from making a centrepiece. Clustering plants means grouping them together, even if they are of different heights. Plants need not be placed on the centre of the table. Clustered plants look best in the corner. Instead of adding another piece of furniture to fill the gap, arrange indoor plants in a way that looks neat. You can place the small plants where they can easily be spotted and the larger plants at the corners.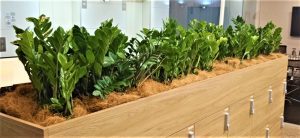 Pair the plant with another piece of art. A painting, a sculpture, or a picture paired with a pot of plant will draw anyone's eyes on it. You can also complement your chosen piece of art with your wooden planter boxes. This style is sure to create interest in the room.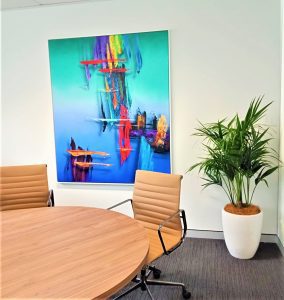 Plant on the shelves. Office plants should not make your office look cramped. If you have shelves that took most of the space already, why not put your plants in them? Plants on shelves will create a captivating and relaxing display in your space.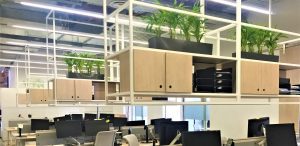 Which of these design trends are you looking to apply in your office space? Contact The Plant Man to get a stylish and sustainable green design suitable for your office space. Call (02) 9565 4440 now.