Flourishing plants are as indicative of springtime as sunshine is of summer. This spring, add another task to your spring cleaning to-do list by fitting out your office with lush and blooming plants. 
At The Plant Man, spring is officially our favourite season. We wave goodbye to winter, bid a fond farewell to frosty evenings and welcome in sun, warmth and a stunning array of plants.
7 Best Spring Plants
Spring is undoubtedly the best time of year for plants, so it's not surprising that the list of 'best spring plants' is rather long. To save you from becoming overwhelmed when trying to organise an office spring fit, here is a list of our _ favourite plants for the spring season.
Boston fern
Also known as the sword fern, the Boston Fern is a slow growing indoor plant that particularly thrives during the spring and summer time. Give this plant sufficient care and it will reward your office with a lush cascade of green foliage. Boston Ferns look particularly stunning when kept in a hanging basket that provides ample space for the plant to show off its graceful, overflowing leaves.
To grow the ultimate version of your Boston Fern, make sure it receives plenty of moisture and high humidity this spring.
Peace lily
As one of the most iconic flowering indoor plants, the low-hassle peace lily has converted many hesitant horticulturists into avid indoor plant enthusiasts. Recognisable by its dark green leaves and white flowers, the peace lily is a tropical spring plant that proves beauty and hardiness can coexist in indoor plant form.
The peace lily is a favourite amongst offices around the globe, and is an ideal option for those wanting to infuse some spring joy into their workspace. Peace lilies are best suited for the low-light areas of your office and can also tolerate fluorescent lights. Both of these factors make them an excellent choice for brightening up open plan offices.
Anthurium
Brilliant and bright, the anthurium plant is the perfect indoor plant for offices wanting to introduce a pop of colour this spring. Anthuriums come in a variety of bold colours, including shades of red, pink and white.
As there are over 1000 species of anthuriums, the exact care your office's anthurium needs will depend on its type. However, for all of their differences, every anthurium requires both warmth and high humidity to survive. Anthuriums should be kept in bright, indirect sunlight, and will generally thrive in office spaces with floor to ceiling windows.
Hoya
Commonly referred to as a wax plant, hoya is a genus of 500+ species of tropical blooming plants. Their colourful waxy flowers and climbing leaves emit a definite 'spring time' ambience.
Hoya are known as being relatively forgiving and are a common indoor plant found in offices. Their climbing leaves means that hoya are well suited to hanging baskets.
Guppy plant
This is a stunning indoor plant with glossy leaves and masses of delicate orange flowers that resemble miniature goldfish. Spring is the guppy plant's favourite time of the year, as it enjoys bright and warm environments that offer around 12 hours of indirect sunlight during the warmer months. 
To ensure a happy guppy plant, keep its soil consistently moist and ideally fertilise the plant weekly during its growing season to encourage maximum blooming.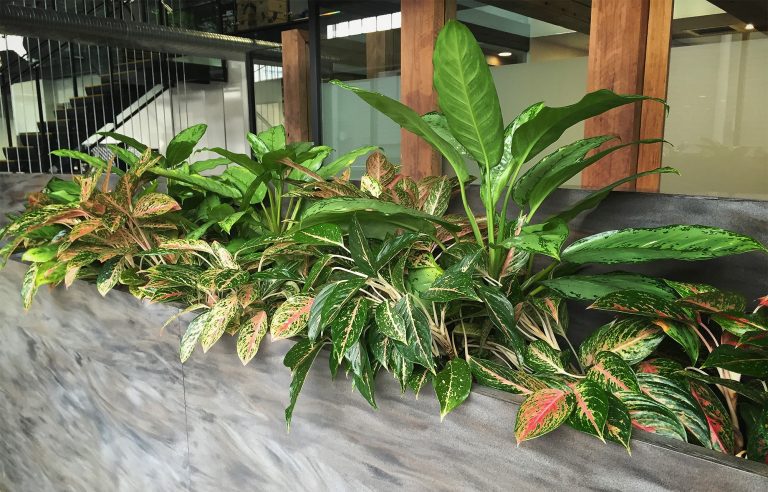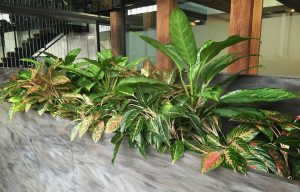 Chinese Evergreens
Aglaonema or Chinese evergreen is an extremely popular indoor plant, mostly due to its bold, colourful leaves and easy-going nature.
To help your aglaonema flourish, keep it out of direct sunlight and away from drafts. Water when the top two inches of soil become dry and regularly wipe the leaves with a moistened cloth.
Philodendron Rojo Congo
This Burgundy beauty is an incredibly durable plant and does very well inside. The large, thick, glossy green leaves are sturdy and grow upright, making them an excellent feature for a vertical garden installation.
But this plant's benefits extend beyond just its looks: the Philodendron Rojo Congo is also known to be an air purifier, which definitely scores it extra points from us.
How to care for plants during the spring
While every plant has its own preferences, there are some commonalities amongst indoor plants when it comes to their spring care routine. Here are some things to keep in mind when caring for your office plants this spring.
Allow for extra watering
Almost all indoor plants will require additional watering during the springtime as they reawaken from their winter slumber and prepare for the warmer temperatures of summer. 
Ensure plants don't get exposed to extreme temperatures
Considering that air conditioning makes a common appearance in offices during spring time, the above statement applies to both temperature extremes. Keeping plants away from air vents and particularly sunny windows that may expose them to excess heat will help encourage healthy growth during the warmer months.
Consider fertilising
Depending on the type of plant you are caring for, fertilising may need to be on its care agenda this spring. But it's important to not go overboard with fertiliser during springtime, as it's best done on an occasional basis to ensure the plant isn't damaged by excess nutrients.
Get office spring fit this year with The Plant Man
Inspired to echo the vibrancy of nature during springtime within your own office? The Plant Man's office plant hire specialist services means that transforming your office into a springtime oasis is a simple task that doesn't require ongoing fuss or unnecessary complications.
Get in touch with us today to discover how our plant maintenance services can bring your office to life this spring with a touch of seasonal greenery.