Looking for an effective way to transform your office space? The solution is simple: add some indoor plants. Not only will they look great, they will also help improve air quality, enhance wellbeing and spruce up your environment, making it a genuine pleasure to work in.
What are the Best Office Plants for your Workplace?
As each workplace is different, it is tricky to create an ultimate ranking of what kind of indoor plants are best suited to office life. 
To ensure you make a smart choice, here are some things to think about when researching the best plants for office buildings.
Consider Sunlight and Humidity
Different types of plants prefer various amounts of sunlight and humidity. Taking the time to consider your office environment will help you narrow down your options when looking for the best office plants for your workspace.
Will the plants receive lots of bright sunlight or will it be placed in a corridor with few windows? Is the air conditioning often on, leaving the room filled with drier air? Answering these questions will give you insight into the specific type of office plant that will work best for your unique workspace.
Interior Design
Your vision of the perfect green office will also determine your final choice in office plants. Are you looking to add a pop of colour with a vibrant Chinese Evergreen or do you prefer the understated serenity of a classic Fiddle-leaf fig? Will you stick to a theme or are you intrigued by the idea of having a mis-matched collection of distinct tropical plants?
Most likely, you'll want to closely examine the current colour scheme of your office to pinpoint what kind of plants you're looking for. You can also further echo the style of your office by incorporating coloured pots or planter boxes that match their surroundings.
Top 5 Indoor Plants for a Stylish, Healthier Workplace
We'll take the hard work out of choosing from the endless varieties. Check out our list of the top five best indoor plants that will make your office an oasis of greenery.
1. Kentia palm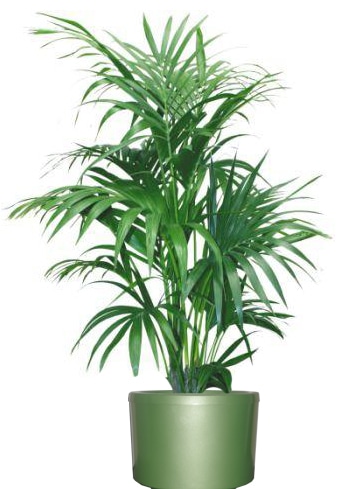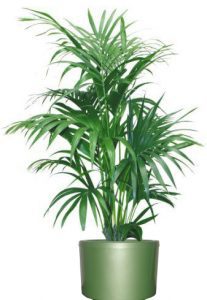 This beauty provides a tropical looking display, but it's real appeal lies in its low maintenance nature. Happy in low light conditions and in a range of temperatures, indoor plants like the Kentia palm will make reliable office mates rewarding you with their lush, verdant display.
2. Peace lily
The generous leaves and beautiful white flowers of the peace lily make it an attractive option for the office, and they are surprisingly easy indoor plants to maintain. Providing a beautiful focus for your environment, this favourite will impress visitors to your office and ensure that you love spending time there.
3. Mother-in-law's tongue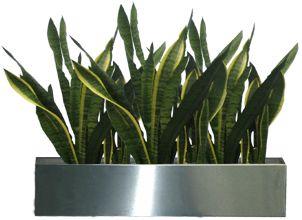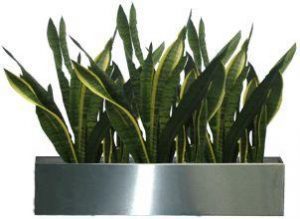 You can't go wrong with this versatile plant. Its spiky shape adds interest to your workspace, and it works hard to enhance humidity and filter out toxins in the environment. You can arrange it in a series of small containers or larger pots, depending on your space. Either way, it will look stunning!
4. Janet Craig
This favourite indoor plant has deep glossy foliage and a distinctive shape that looks great in any indoor environment. Tough and adaptable, it isn't fussy about where it sits and requires only the simplest of maintenance. The Janet Craig really is the perfect office companion.
5. Bamboo palm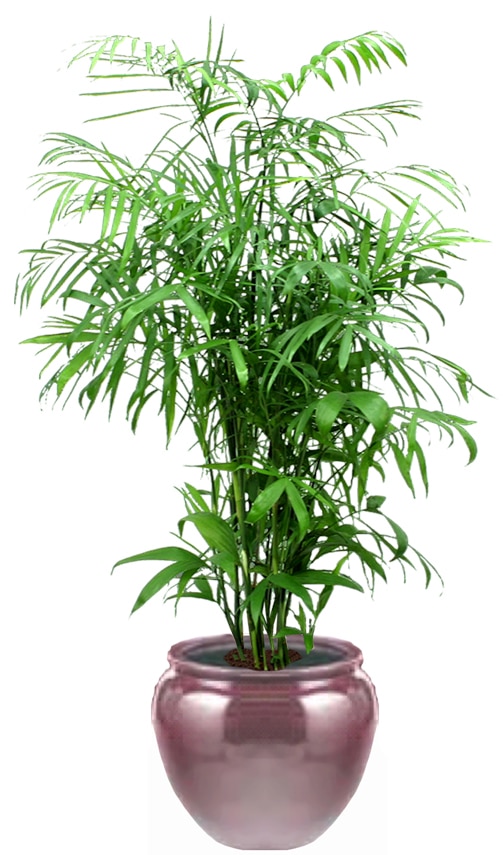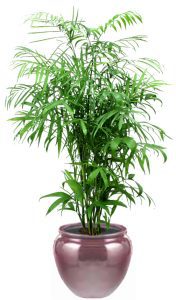 You can have great fun creating a dramatic display with bamboo palms – grouped together these indoor plants really do give the impression of bringing the outdoors in. Along with their ability to filter out toxins from the environment and increase humidity, they offer health benefits too.
Latest Indoor Plant Trends
If you want to show your employees that their workplace is up-to-date with all the latest trends, you might want to incorporate some of these current obsessions of the indoor plant world in your design.
The sky (or ceiling) is the limit
When we think about redesigning our office space, we often neglect what's above us in favour of everything we can see at eye level. Tall plants, hanging baskets and small succulents stacked on high shelves can all work together to create an elegant workspace that seamlessly makes full use of its height. 
Plants as art
Bring that empty wall in front of you to live (literally) with a vibrant piece of art that doubles as a plant. Plants are more than just objects for interior design – they are living pieces of artwork. Vertical gardens and living art series open up endless possibilities when it comes to creative ways to display plants in offices.
Inspired by learning about new indoor plant trends and how they can improve your office environment? Reach out to us at The Plant Man – we design, install and maintain indoor plants in Sydney and the surrounding area. Reach out and contact us for a free consultation and quote.