With much of Australia in lockdown, there are plenty of people working from home right now. Whether your home work space is a dedicated office, a jumbled kitchen table or a converted closet in your spare room, there's a sure-fire way to freshen that space up: add an indoor plant or two! We've rounded up five of the best indoor plants for the home office, to bring life and colour to your working environment.
For a beautiful trailing effect: Devil's Ivy
Also known as pothos, Epipremnum aureum grows fast and suits pretty much any spot in the home. These trailing plants can be grown in a pot, a hanging basket over your desk or climbing up a moss pole within your WFH space. Keep it lightly watered and less so in colder months, and you'll be rewarded with a plant that shows major personality. Devil's Ivy is also a great air-purifying plant; just be sure to keep it out of reach of dogs and other pets.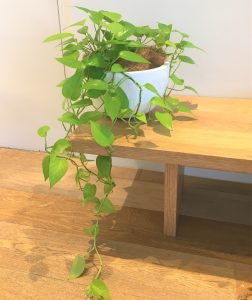 To create a tropical office oasis: Bamboo Palm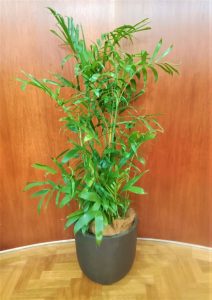 Prefer to reply to emails from a tropical paradise? The Bamboo palm, or Chamaedorea seifrizii, could be your indoor plant of choice. It can be kept in a pot on your desk or promoted to a larger pot on the floor, where it'll provide a generous array of soft fronds. Keep the soil moist and the plant away from harsh sunlight, and you'll be well equipped to daydream about far-off destinations.
For a trendy desk or floor plant: Fiddle-leaf Fig
While many differenttypes of indoor plants have grown in popularity lately, Ficus lyrata is a firm favourite for its generous and deep green leaves. These plants can grow seriously large, so the dwarf Ficus lyrata Bambino form is a perfect choice for a cute pot on your desk. Grow it away from direct sunlight, and keep the soil damp without overwatering for a happy plant.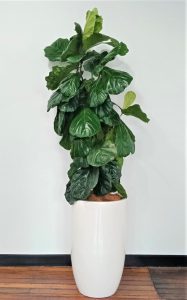 For ridiculously easy care: Zanzibar Gem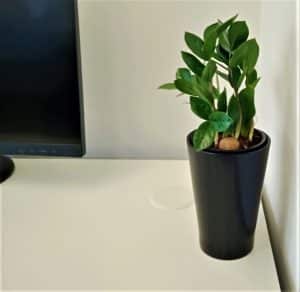 Zamioculcas zamiifolia is known and loved for its thick, glossy leaves – as well as for being virtually indestructible! It thrives in dappled or indirect light and does well when you let the soil dry out between watering. Your ZZ will look great in a smaller pot on an office shelf, or in a larger pot placed at the end of your desk.
For a top talking point on Zoom calls: Monstera deliciosa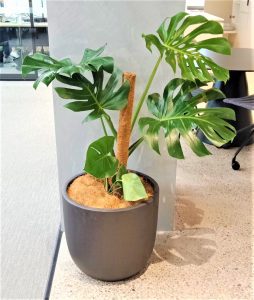 Monstera plants have a bold aesthetic and are going through a huge resurgence – some are fetching astounding prices! These plants prefer a warm climate away from direct light and a drink of water whenever the top soil dries out. Give them the right growing conditions and a trellis, and soon enough your Zoom background will be filled with joyously large leaves.
As the time comes to open up the shared office again, we're here to help Sydney with indoor plant hire, to ease that transition. Welcome your staff with lush greenery, lovingly installed and cared for by our expert team. Explore our indoor plant gallery for modern indoor plant set up ideas, and request a quote at (02) 9565 4440 today.